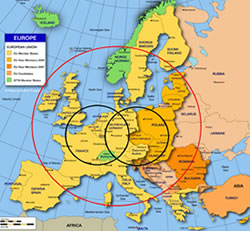 LUXROUTAGE is a logistics service provider based in Luxembourg. The company was founded in 2004 and operates mainly in the business of e-commerce. We offer our customers a variety of solutions for storing, packaging and delivering of their goods. The storage capacity of our stock consists of a 4000 square meter area.
Luxembourg is located in the heart of a market area made of 450 million consumers. The country is therefore well placed to develop its European and international markets. With a rate of 17%, you get a stable and fair taxation that can lead to business growth.
Our strategic location allows us to deliver your products anywhere in the world and thus to respect the deadlines delivery times. We also benefit from the best delivery costs, thanks to the cooperation of our postal partners.
As a well recognized firm in the area, we deliver daily from 7 000 to 10 000 packages throughout Europe.
To meet our customer's demand and due to our quick growing, we have opened a second warehouse at the end of 2012 and we are now opening a third one in the North of Luxembourg..
Frédéric Bilski
Managing Director
Claudine Muratori
Administrative manager
Thierry Kellner
IT manager
Olivier Grosnickel
Logistics manager
ASK FOR A QUOTE
PERSONALIZED AND FREE
To receive a free personalized quote, please fill out the form, we will get back to you as soon as possible