LRI LOGISTICS SOFTWARE
Our company constantly invests in the development of logistics IT applications in order to offer our customers innovative and efficient solutions. We thus have proprietary logistics software allowing the solution to evolve rapidly according to the demand of our E-Commerce customers.
ADVANTAGES OF OUR LOGISTICS SOFTWARE
Simplified data exchange
Quick set-up
Compatible with the majority of E-Commerce platforms
Multibase software
Possibility of using the software in SAAS mode
Web software; accessible from any browser
All the management and configuration of the databases are carried out online from the web browser and by the partner who owns the database.
Multilingual: each user can choose their language.
FONCTIONNEMENT DU LOGICIEL LOGISTIQUE LRI SOFTWARE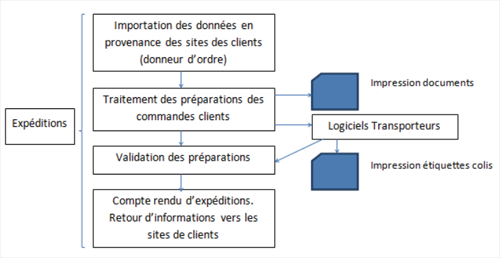 FOCUS ON A FEW FEATURES:
Link with your ERP or E-Commerce platform
Data acquisition according to standard, flexible and scalable protocols
Processing of order preparations
Summary of orders (Dashboard)
Choice of orders to be processed with the possibility of filtering (import date, carrier, date range, customer data, etc.)
Export of order + recipient data to carrier software for printing package labels
Order consultation (details)
Consultation of archives for reprint or consultation
Order validation
Possibility of importing a text file from third-party carrier software containing the package numbers
Possibility of having several packages for the same order
Liaison with carriers at your request
Multi-location of articles
Statistics of activities carried out on your behalf
ASK FOR A QUOTE
PERSONALIZED AND FREE
To receive a free personalized quote, please fill out the form, we will get back to you as soon as possible